This year's Seven Lakes budget includes $30,000 for lights on courts 5 and 6. This resulted from individual tennis players contacting Board members privately and asking for these lights to be installed.
In the past, both the Tennis Club and the Tennis Committee have voted to make the expansion of Courts 1-4 our #1 priority. Most recently, this January, the Tennis Committee voted unanimously to make the following our top priority: "a project to widen Courts 1 through 4 to USTA recommended specifications and adding space to be kept available for future [seating and shade], utilizing the $50,000 donation from a tennis club member. " (A Club member has donated $50,000 to the Tennis Club to be used toward this project, with a deadline of February 2021.)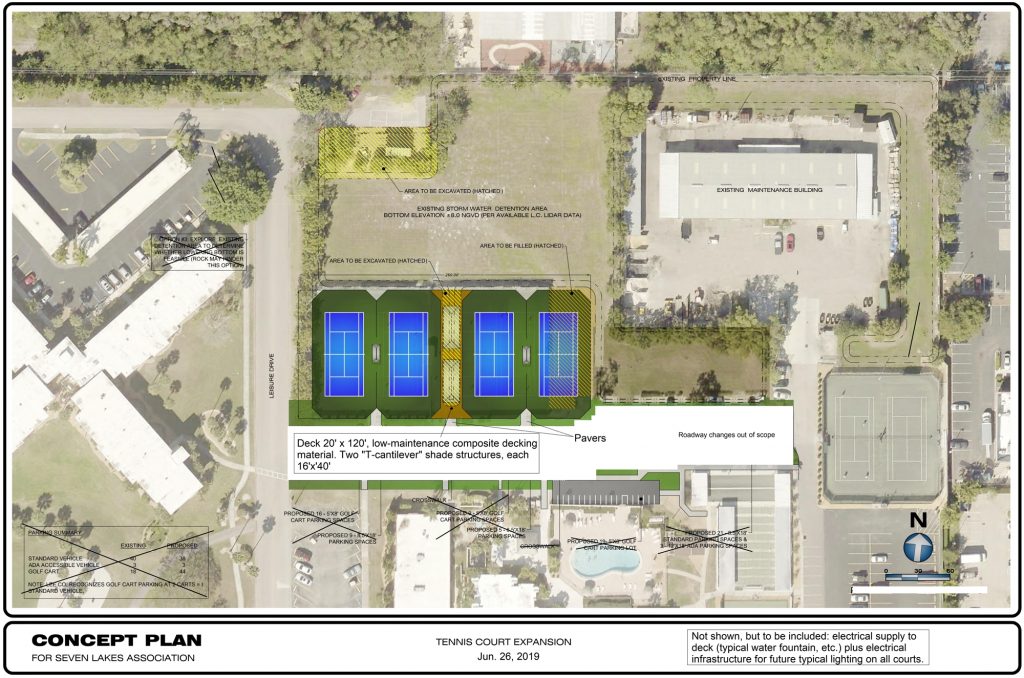 DDAI, the civil engineering firm, has confirmed that the project is feasible from an engineering perspective, requiring roughly $10,000 to compensate for the change in water detention. Tennis players donated most of the $6,750 to pay for this engineering study. The project for Courts 1-4 is currently out for bid. We should have a price next month.
Once the expansion project is completed, Courts 3 and 4 may be attractive for night play, because they will have a divider fence, the adjacent deck, nearby bathrooms, ice, grills, etc. Concerns about light pollution spreading to Condo 2 would be addressed by using modern "neighbor-friendly" lighting that casts light down, but not to the side, and is controlled by a timer with a strict curfew such as 9:30 pm.
Members of the Board have asked for player input about priorities. Please take a moment to share your thoughts.